This article describes installation and configuration steps for Mikrotik routers using our Windows-based tool RouterAdmin.
It will help you configure most settings automatically but you'll have to enable API access in the web fig to allow the tool to communicate with the router.
Configuration applies to Mikrotik routers with RouterOS L4 and beyond.
Please reset Mikrotik router to factory settings to avoid problems with some previous configuration.
Connect your computer using a network cable to the Mikrotik router LAN port.
Go to the browser and from URL browser files access to WebFig using 192.168.88.1 address.
From the menu select IP – Services and Enable API.
Facebook login requires that the redirect page is served as https.
For that purpose, enable www-ssl.
Make sure that DHCP Server is enabled.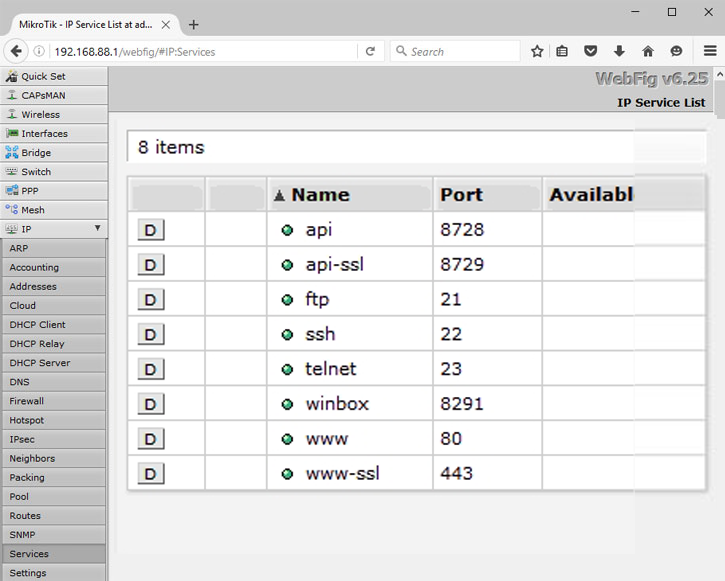 Unzip archive and run
RouterAdmin
as Administrator (right click on exe file and
run as Administrator
).
This is important in order to allow RouterAdmin to perform required settings.
Select
Mikrotik
in the left menu.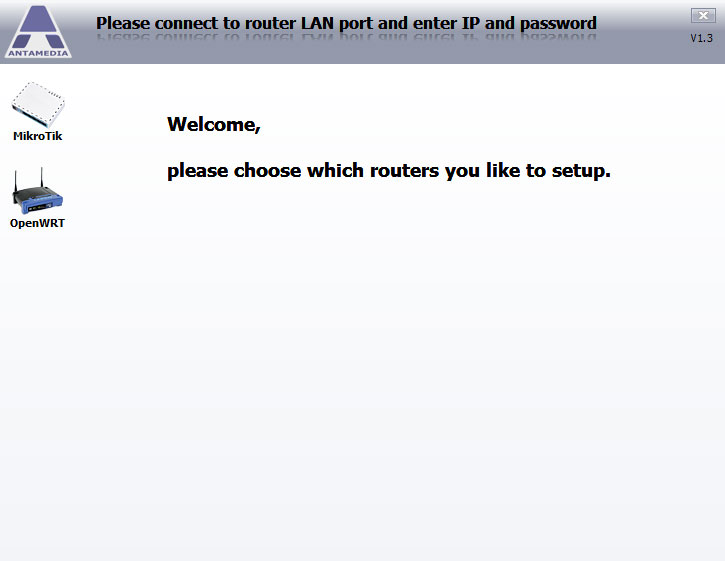 Press Get Router Data to load your router configuration.
Change the IP address and port if it is different.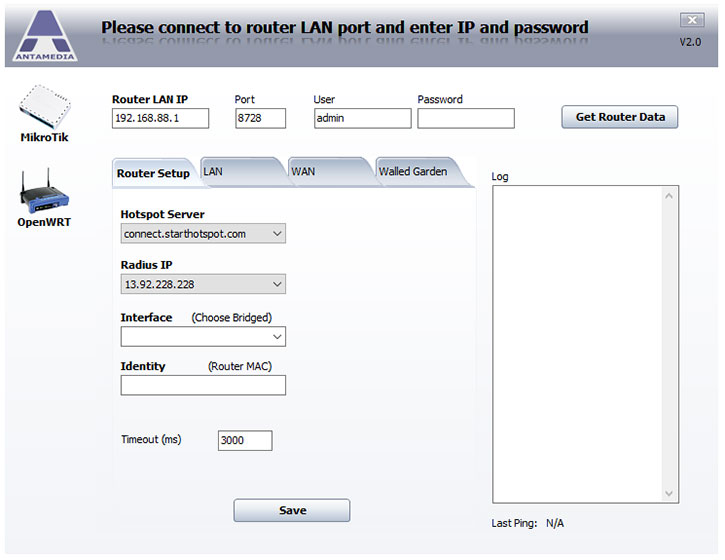 When loading completes, you should see MAC address configured as the NAS-Identity which is identifying your router in our system.
It is very important to specify the same MAC as the Hotspot address in the cloud portal, as it allows the system to serve splash pages, contol users and store statistics.
Another very important step is to select Bridged interface.
If it is named a different way, you need to determine which one will be used as a bridged one, as it will control end-user traffic through it.
Default secret is secret and can be changed later once you start deployment when we will create your unique password.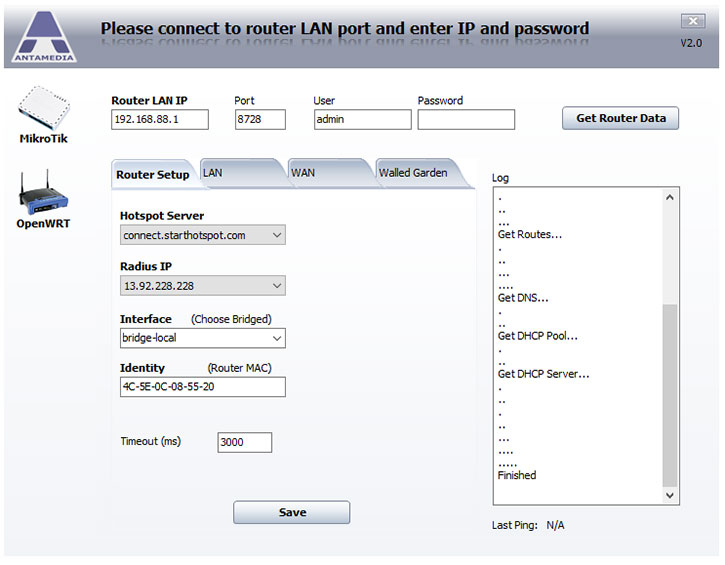 Please specify a default list in the Walled Garden page.
Add your domain(s) that a user can access without login.
connect.starthotspot.com
*.starthotspot.com
*.antamedia.*
13.92.228.228
13.90.247.200
*facebook*
*facebook.net
*googleapis*
*apis.google.com
*accounts.google.com
*gstatic*
ssl.gstatic.com
*fbcdn*
*connect.facebook.*
*.akamaitechnologies.com
*www.google*
*.akamaiedge.net
*.akamaihd.net
*.edgecastcdn.net
*.edgekey.net
*.googleapis.com
*accounts.google.com
*ssl.gstatic.com
gstatic.com
*googleusercontent*
*fonts.gstatic.com
*.youtube.com
*.doubleclick.net
*.googlesyndication.com
*.googlevideo.com
*.ytimg.com
*youtu.be*
*twimg*
*licdn*
*akamai*
*youtube*
*.twimq*
*licdn*
*graph.facebook.com
*googleusercontent*
*openweathermap*
*google-analytics*
ssl.start-hotspot.azurewebsites.net
*ssl.start-hotspot.azurewebsites.net*
Click here for Mikrotik Walled garden script.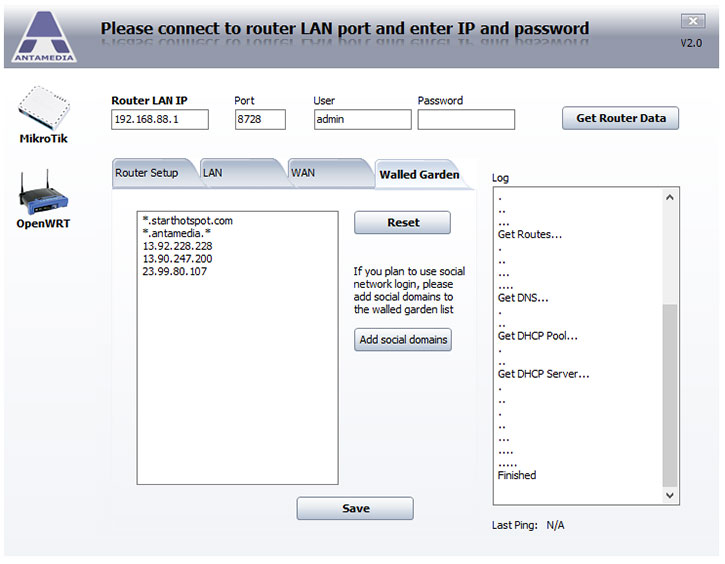 Do not save the changes on the Walled Garden page.
Once you finish, go to the Router Setup page, where you will save all settings at once.
Settings from RouterAdmin will be saved on the Mikrotik router.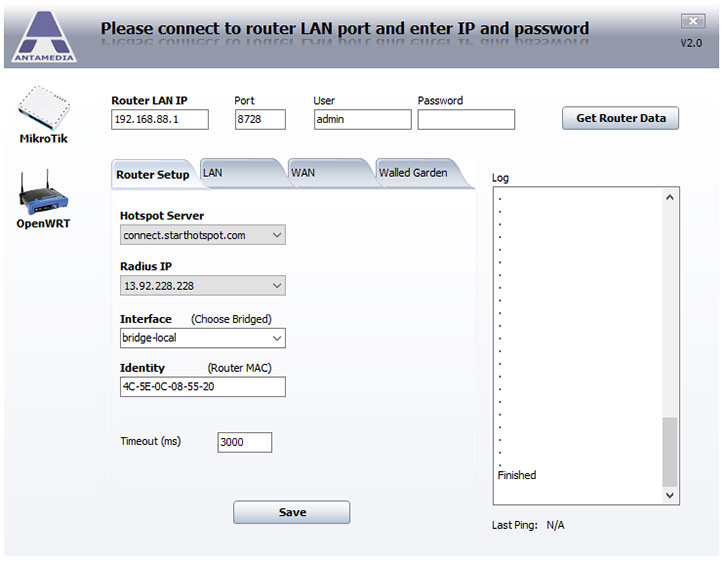 You won't be able to access to Mikrotik router anymore as it will start redirecting all requests to the Start Hotspot Cloud WiFi captive portal.
A quick workaround would be to login as the end-user and that will open access to the router ports, and allow connecting to WebFig and WinBox.
All connected devices to the Mikrotik router will be redirected to the splash page which you configured in the starthotspot.com portal.
You may configure free access, user/pass or code-based, social login, advertisements, etc.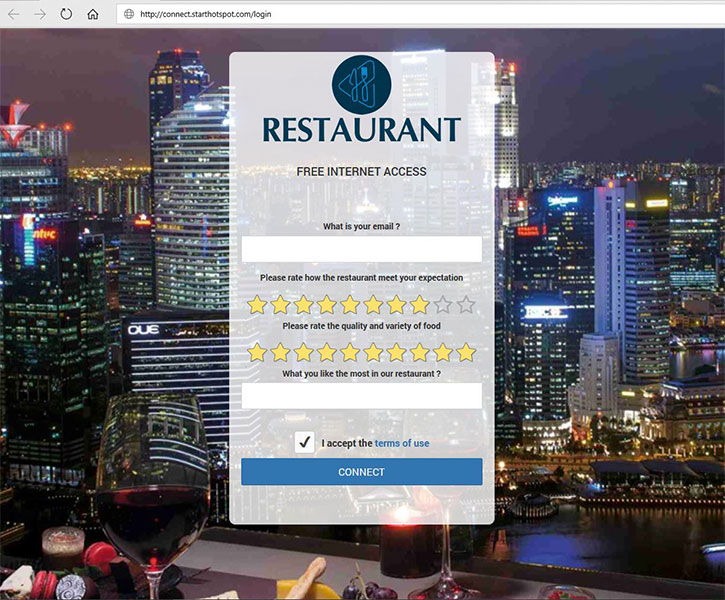 Start your browser and in URL field type https://connect.starthotspot.com/
Username : your email you entered at signup
Password : password you entered at signup
Continue configuring your Hotspots, Locations, Splash pages and other settings.