Please select a model and download firmware. You have to match the exact version to prevent issues.
jjPlus Firmware Download
jjPlus JA76PF
Download Kernel I Rootfs I Sysupgrade (SSL)
jjPlus JA76PF2
Download Kernel I Rootfs I Sysupgrade (SSL)
jjPlus JWAP003
Download Kernel I Rootfs I Sysupgrade (SSL)
jjPlus JWAP230
Download Sysupgrade (SSL)

The installation of OpenWrt firmware is device-specific.
Procedures for specific devices should be found in the OpenWrt wiki.
See OpenWrt Table of Hardware for available procedures.
If your device is not listed, information on this page may be helpful.
Please reset router to factory settings to avoid problems with some previous configuration.
Prepare appropriate firmware for your router model.
Connect your computer to the jjPlus device.
Set the static IP address in 192.168.1.x range.
Just as in standard OpenWrt sysupgrade process, upload a file to the router and issue the command sysupgrade-n image_name
The firmware upgrade procedure can take a few minutes.
During this process, you will see information about the processing.
If OpenWRT firmware was previously installed on your router, be sure and disable Keep settings option during firmware upgrade.
Reconnect LAN cable or Disable/Enable NIC card in order to get new valid IP address in 192.168.45.x range from router.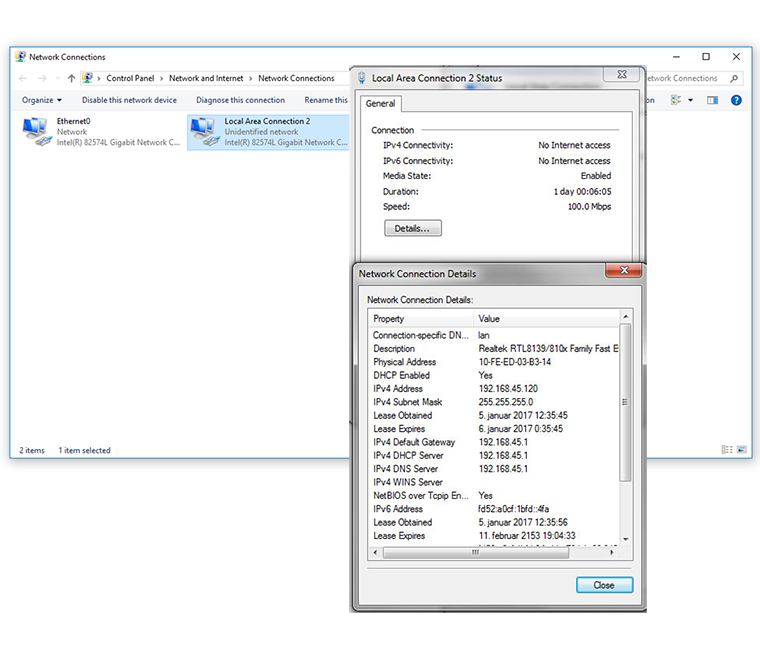 Start your browser and in URL field type http://192.168.45.1:8089
Username : admin
Password : admin

Press the Login button to access to Status tab.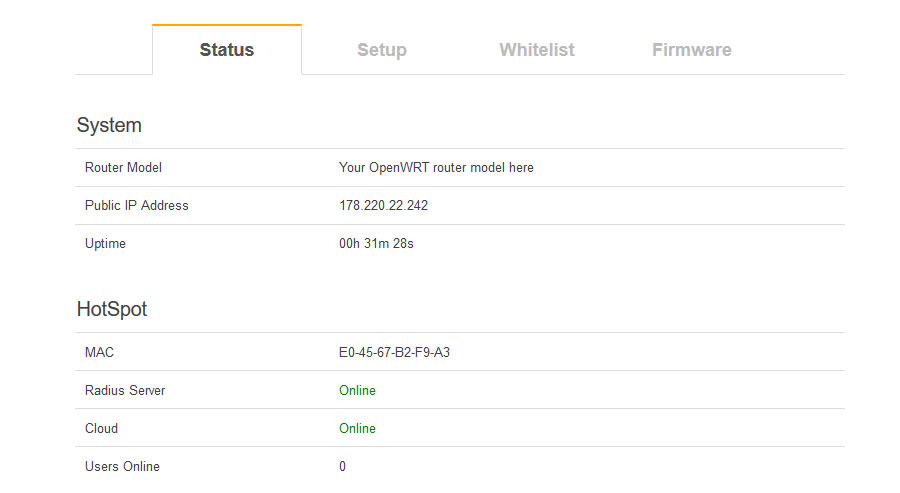 On Status page, you will see a MAC address of your OpenWRT router which will be used in the SignUp process.
After selecting your HotSpot name, select as HotSpot model OpenWRT, and add your MAC address from Status tab.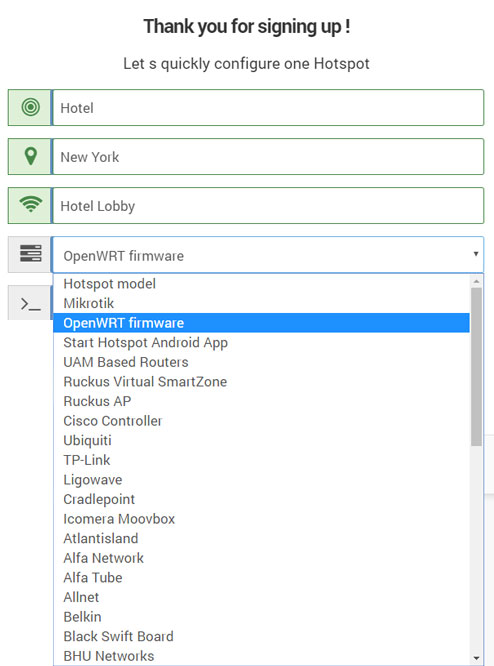 From Setup page configure your OpenWRT router.
Be sure and set Autostart option. This option is not active by default.
Here you can set a new Administrator password for access to the router setup and configuration. Save changes.
Enable WiFi, set SSID name and click Save.
As DNS Server select Custom and set 192.168.45.1

Select
Network Protocol
and
Save
changes.
By default as
Network Protocol
is set
DHCP
, but you can choose Network Protocol based on your needs.
Our recommendation is to use
DHCP Network Protocol
.
When you finish setup, restart the router to apply changes.