Please select a model and download HotspotOS.
DownloadHotspotOSConfigurationTroubleshoot
Connect your computer by network cable to the LAN port.
Please log in to the Asus web interface at https://192.168.1.1.
Go to the Administration / Firmware Upgrade page.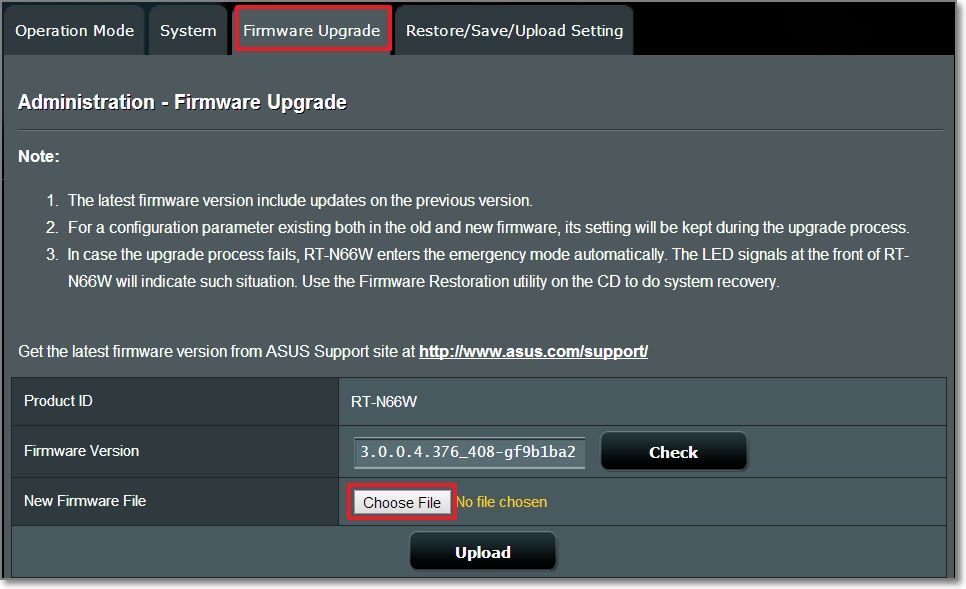 Click Choose File.
Navigate to the location where the HotspotOS for your model is downloaded and press on Open.
Press the Upload button.
The HotspotOS installation procedure can take a few minutes.
During this process, you will see information about the processing.

Reconnect LAN cable or Disable/Enable NIC card in order to get new valid IP address in 10.200.0.x range from router.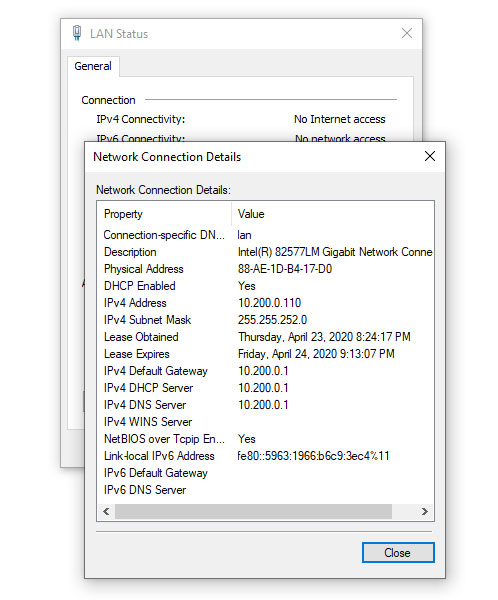 Start your browser and in URL field type http://10.200.0.1:8089/ to login to HotspotOS.

Username: admin
Password: admin

Press the Login button to access to Status tab.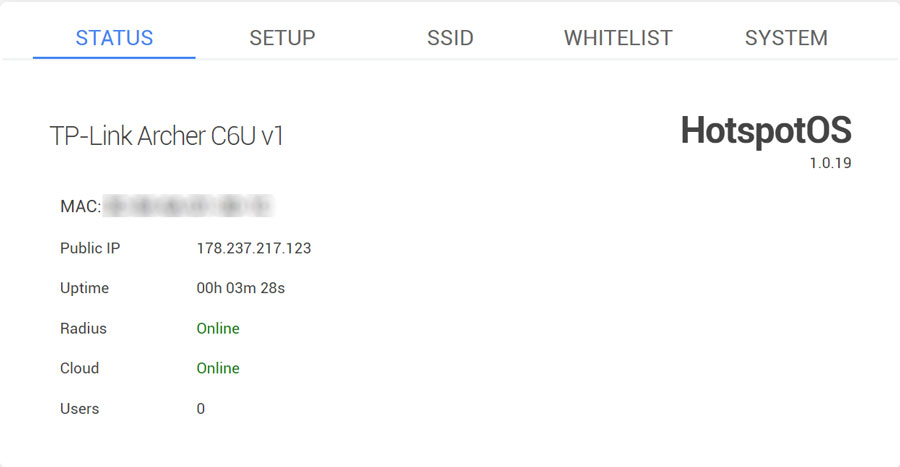 On the HotSpotOS Status page, you can check AP MAC address, Public IP, device Uptime, Radius and Cloud status, and a number of users connected to AP.
The MAC address of your AP will be used in the SignUp process.
During SignUp, after typing HotSpot name, select as HotSpot model HotspotOS, and add your MAC address from the Status tab.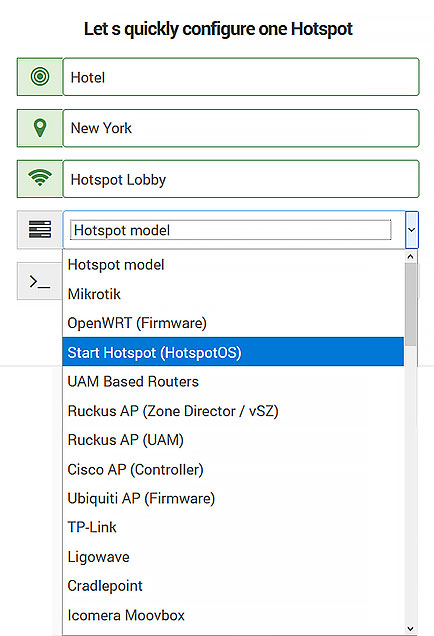 From the Setup page configure your AP.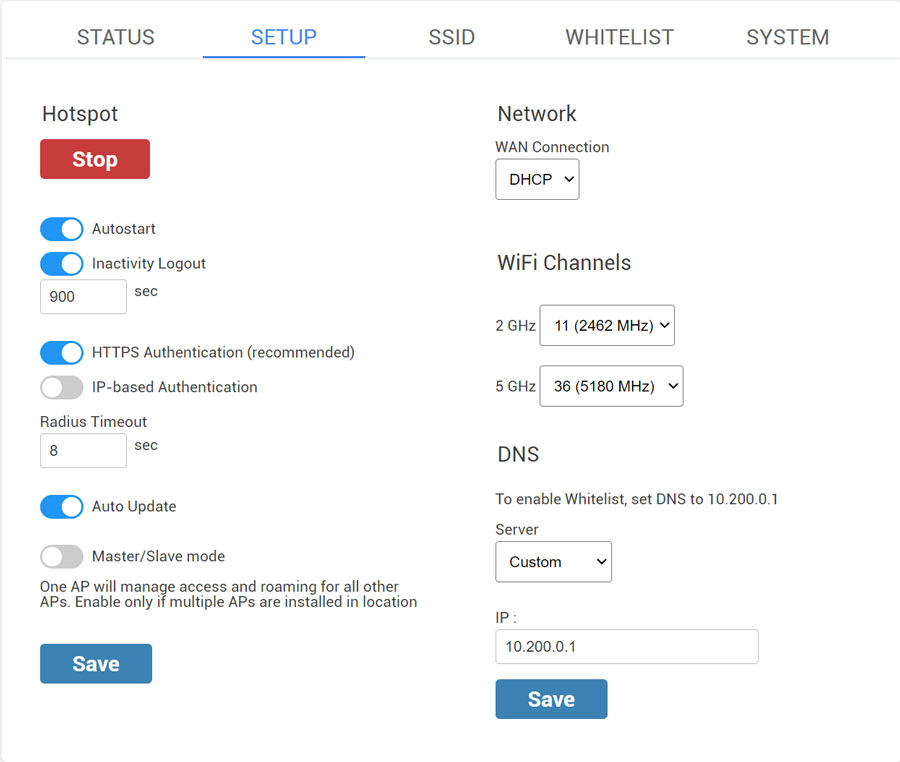 The Hotspot is started and the Autostart and Inactivity Logout options are active by default.
Inactivity Logout is set to 900 sec. Inactivity period defines how long will the device stay logged-in without activity. This prevents repeated logins if the connection temporarily breaks.
IP-based Authentication is used to switch AP domain ap.wifihotspot.io to 10.200.0.1
It is recommended to disable this option to avoid issues with https-based websites.

Radius Timeout – 8sec
Auto Update – enabled
Master/Slave mode
One AP will manage access and roaming for all other APs.
Enable only if multiple APs are installed in a location.
By default as Network WAN Connection is set DHCP, but you can choose network protocol based on your needs. Our recommendation is to use DHCP Network Protocol.
WiFi channels – Eleven channels are designated in the 2 GHz range, spaced 5 MHz apart from each other. Those eleven channels in the spectrum are allowed anywhere in the world.
DNS – Custom
IP – 10.200.0.1
Save changes.
From the SSID tab, you can Enable SSID 1 and 2.
Configure the SSID name and enable it.
Secondary SSID 2 is mostly used for staff WiFi with WPA2 password but you can also enable Hotspot on it.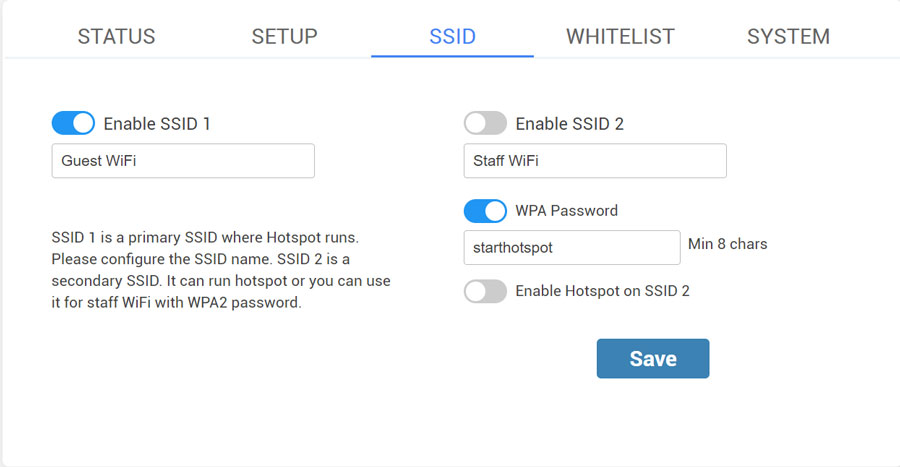 If you want to use Social network login feature or Paypal as payment gateway, enable it on the Whitelist tab and Save changes.
You can also whitelist websites based on URL, IP, or MAC.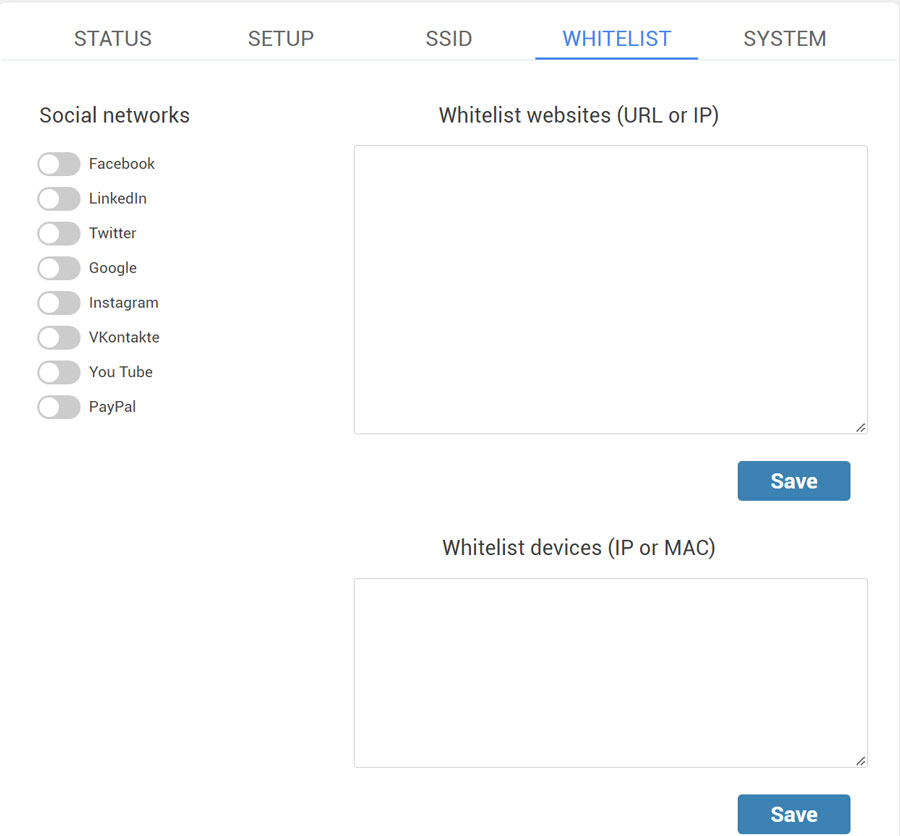 From the System tab, you can flash HotspotOS image and change the Admin password.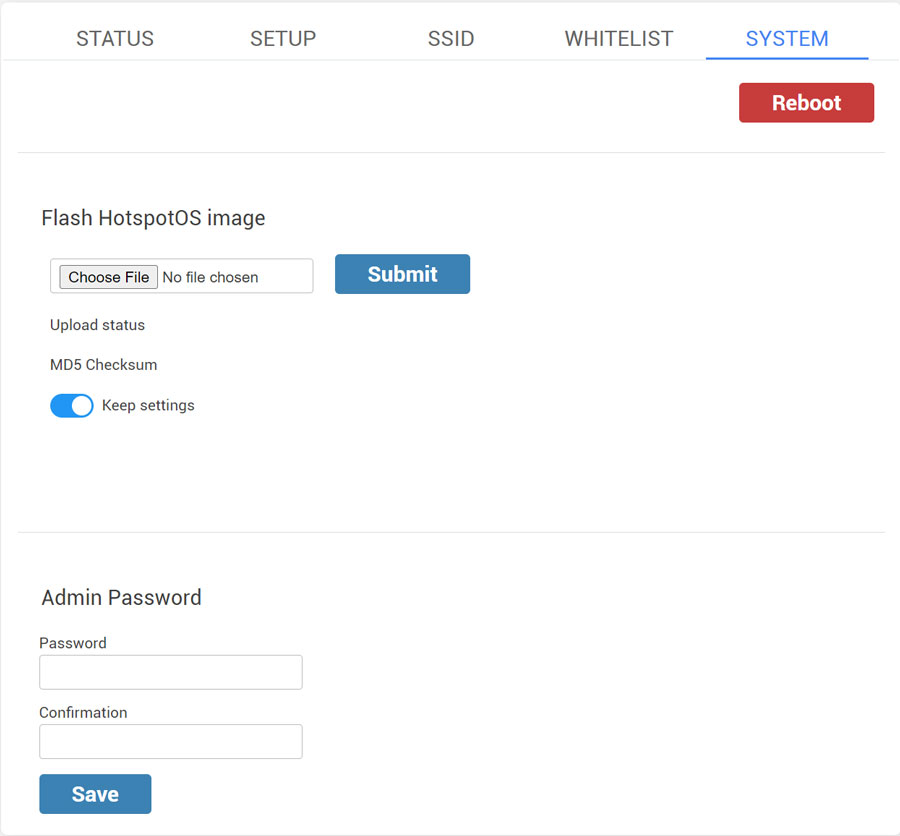 When you finish setup, restart the AP / WiFi router to apply changes.
---
Asus Lyra (MAP-AC2200)
Download HotspotOS Initramfs
Download HotspotOS Syupgrade
Flash instructions
Note:
Reset the router to factory defaults if it has been previously configured.
Installing HotspotOS on this device requires a two-step process, first writing the initramfs image from the OEM firmware – and then finalizing the installation by sysupgrading the real device firmware.
1 Enable ssh in the OEM firmware (use port 22).
2 Copy hotspotos-ipq40xx-generic-asus_map-ac2200-initramfs-fit-uImage.itb via scp to /tmp/
3 mtd-write -d linux -i /tmp/hotspotos-ipq40xx-generic-asus_map-ac2200-initramfs-fit-uImage.itb
4 reboot -f
5 Wait for it to reboot
6 Copy hotspotos-ipq40xx-generic-asus_map-ac2200-squashfs-sysupgrade.bin via scp to /tmp/
7 sysupgrade -n /tmp/hotspotos-ipq40xx-generic-asus_map-ac2200-squashfs-sysupgrade.bin
8 Wait for it to reboot
---
ASUS RT-AC51U
Download HotspotOS
Flash instructions
Asus windows recovery tool:
1 Download the ASUS Firmware Restoration Tool but don't open it: https://dlcdnets.asus.com/pub/ASUS/wireless/4G-AC53U/Rescue_2102.zip
2 Unplug your computer from the router
3 Put the router into Rescue Mode by: turning the power off, using a pin to press and hold the reset button, then turning the router back on while keeping the reset button pressed for ~5 secs until the power LED starts flashing slowly (which indicates the router has entered Rescue Mode)
4 Important (if you don't do this next step the Asus Firmware Restoration Tool will wrongly assume that the router is not in Rescue Mode and will refuse to flash it): go to the Windows Control Panel and temporarily disable ALL other network adapters except the one you will use to connect your computer to the router
5 For the single adapter you left enabled, temporarily give it the static IP 192.168.1.10 and the subnet mask 255.255.255.0
6 Connect a LAN cable between your computer (make sure to use the Ethernet port of the adapter you've just set up) and port 1 of the router (not the router's WAN port)
7 Rename hotspotos-XX.XX.X-ramips-mt7620-rt-ac51u-squashfs-sysupgrade.bin to factory.trx
8 Open the Asus Firmware Restoration Tool, locate factory.trx and click upload (if Windows shows a compatibility prompt, confirm that the tool worked fine)
9 Flashing and reboot is finished when the power LED stops blinking and stays on
10 That's it! (Don't forget to re-enable any network adapters you disabled earlier)
TFTP method
1 Download the HotspotOS firmware image
2 Unplug the power cord from the router
3 Press the reset button with a pin and keep holding it down
4 Plug the power cord in
5 Wait 10 seconds
6 Release the reset button
7 On your computer, set a static IP to the network adapter connected to the router (IP 192.168.1.75, Subnet 255.255.255.0, connect to the first LAN port of the router)
8 Use tftp -client to download the firmware image
tftp> binary
tftp> connect
(to) 192.168.1.1
tftp> put hotspotos-XX.XX.X-ramips-mt7620-rt-ac51u-squashfs-sysupgrade.bin
9 The power LED flashes quickly while the router is being flashed
10 Flashing is successful when the power LED is constantly lit
---
ASUS RT-AC57U
Download HotspotOS
Flash instructions
Via TFTP:
1. Set your computers IP-Address to 192.168.1.75.
2. Power up the Router with the Reset button pressed.
3. Release the Reset button after 5 seconds.
4. Upload HotspotOS sysupgrade image via TFTP:
> tftp -4 -v -m binary 192.168.1.1 -c put hotspotos-ramips-mt7621-asus_rt-ac57u-squashfs-sysupgrade.bin
Via SSH:
Note:
User/password for SSH is identical with the one used in the Web-interface.
1. Complete the initial setup wizard.
2. Activate SSH under "Administration" -> "System".
3. Transfer the HotspotOS sysupgrade image via scp:
> scp hotspotos-ramips-mt7621-asus_rt-ac57u-squashfs-sysupgrade.bin [email protected]:/firmware.bin
4. Connect via SSH to the router.
> ssh [email protected]
5. Write the HotspotOS image to flash.
> mtd-write -i /tmp/firmware.bin -d linux
6. Reboot the router
> reboot
---
ASUS RT-AC65P
COMING SOON!
---
ASUS RT-AC85P
COMING SOON!
---
Asus RT-N11P A1 / Asus RT-N12+ / Asus RT-N12E B1
Download HotspotOS
Flash instructions
1. Configure PC with static IP 192.168.1.75/24
2. Connect PC with one of LAN ports, press the reset button, power up
the router and keep button pressed for around 6-7 seconds. All 4 LEDs will
start to blink, which is when the router will accept firmware files via TFTP.
No known limitations on firmware filenames, just send it with a TFTP client
to 192.168.1.1.
3. The router will download file from the server, write it to flash and reboot.
---
Asus RT-N14U C1
Download HotspotOS
Flash instructions
Method 1 – TFTP
1 Download the image sysupgrade.bin
2 Plug UTP cable to your board
3 Power it up while pushing down the reset button
4 Wait until all leds goes off then release the button
5 Setup your ip address to 192.168.1.75
6 Upload the image using tftp
# ifconfig eth0 192.168.1.75
# ifconfig eth0 up
$ tftp 192.168.1.1
tftp> bin
tftp> trace
tftp> put hotspotos-ramips-mt7620-rt-n14u-squashfs-sysupgrade.bin
After flashing the board should restart itself and boot into HotspotOS.
Method 2 – ASUS Firmware Recovery Tool
1 Download the image sysupgrade.bin as shown in the table above
2 Download the firmware recovery utility https://dlcdnet.asus.com/pub/ASUS/wireless/RT-AC3200/Rescue_2000.zip
3 Plug network cable from the RT-N14U bottom port (WAN port) to your LAN port
4 Switch RT-N14U power on while holding a pin in the reset button socket for 5 seconds
5 Wait until all leds except the bottom power LED go off, the bottom power LED will pulse every second
6 From your PC run the firmware recovery utility (downloaded in Step 2)
7 In the firmware recovery utility GUI browse in the firmware recovery utility to the .bin you downloaded in step 1
8 Still in the firmware recovery utlity click "Upload"
9 Firmware recovery utility should find the RT-N14U in recovery mode and upload the firmware file
10 Once upload complete (utility will tell you), all lights should be off on RT-N14U, wait a few minutes and power cycle the RT-N14U
---